NetAgent 2.6
don't browse, be notify
Notifies you when news are posted. Spend less time searching and checking for IT news; be notify. - Download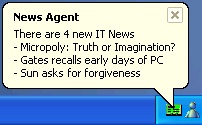 NetAgent - new addition to already stacked list of great features that this site has to offer. Among; great site design, fast server, awesome Outlook style forum, ability of read your IT News while on-the-go via PDA, and much more features. I know that most of you spend bit of your free time browsing for IT News, and I thought that it would be nice to regain some of that free time by minimize the time it takes to find news that you are interested. With NetAgent there is no more need to keep checking whether any new news has been posted. Instead NetAgent will do all that less desirable work for you. Why should you go to a mountain when mountain can came to you? I hope you will find News Agent useful.
I have also build-in ability to submit news. Which is much faster and easer then any other way of submitting news to any other news site. You donot have to have two or more browser window open to copy and paste the information. Having less browser windows open saves memory. And pasting text is done automatically upon selecting text-box. Nice! By allowing members to submit news freely; the news posted will be news that you and other want to read. More interesting, rather then selected group of editors picking news for you. Helps to build grassroots IT community.
For who is NetAgent good for? For people that do not have enough time to search for news, but would like to be more inform about IT world of information. Or for people that can not get enough of IT News.